&nbsp&nbsp&nbsp The Regency Lover's Book

Drawing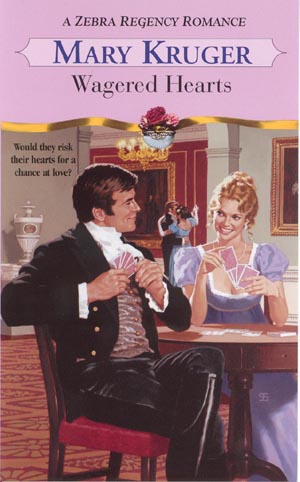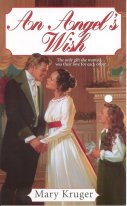 Mary Kruger (aka Mary Kingsley)
SPECIAL DUAL DRAWING
Wagered Hearts · July 2001 Kensington
A RECKLESS WAGER:
An avowed bachelor and admitted rake, Geoffrey Kirk, Viscount Sherbourne, lived a life devoted entirely to pleasure. But even he had to admit that he'd gone too far when he awakened from a drunken night at the gaming tables to fnd that he'd won himself a bride! Everyone knew that Sir Harold Wyndham was a notorious gamester, but no one imagined that he would wager his daughter's hand in marriage. Now, the dashing Viscount had only one hope: that Miss Ariel Wyndham had the good sense to cry off.
An Angel's Wish · October 2001 Kensington
A HUSBAND'S DREAM:
For David Fairfax, Marquess of Stowe, Christmas is the least merry of seasons. It was during Yuletide seven years ago that his marriage shattered, leaving him with an infant daughter and a heart filled with bitter regret. He attempts to make Christmas joyful for young Jennie, but this year her one wish is to see her mother, David's estranged wife Tess. Unable to refuse Jennie, he cannot deny that the thought of seeing Tess again awakens a rush of emotion he believed long buried. While Jennie's heartfelt pleas for their reunion are painful to hear, her mischievous scheme to reunite her parents succeeds all too well. Suddenly, David and Tess are together again...and this time, David hopes the enchantment of Christmas will bring the one gift he never thought he would receive...Tess's tender love.

Welcome back! Sharon Ling was the winner of Robin Schone's Gabriel's Woman. This is a special dual drawing of the two newest books by Mary Kingsley (aka Mary Kruger). Mary will autograph both for the winner. For more information on Mary's books and excerpts from these two books go to Mary Kingsley (aka Mary Kruger).
Good luck to all, Marilyn
You can email your entry to me, click here..