The Regency Lover's Book Drawing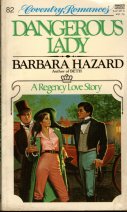 Welcome back and Happy New Year! The two winners of the Christmas drawing were Dawn Olmeda (Blue Sage by Ann Stuart) and Becky Vetor (Kathleen by Barbara Hazard).
This first drawing of 2000 features Shelia Walsh's Madalena and Barbara Hazard's Dangerous Lady. The winner of this drawing gets her pick of these two. Good Luck!
You can email your entry to mmalone@wildmail.com and please put your choice of book on your email along with your name. Marilyn