Regency Author
Mary Chase Comstock
Sign My Guestbook
View My Guestbook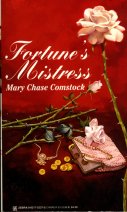 Fortune's Mistress
(Zebra Paperback February 1996) ISBN 0-82175-2375
Never one to give in to the vapors, spirited London beauty Marianne Gardina regarded her scandalous predicament with accustomed aplomb. She was with child and, as the father was soon to wed another, Marianne was quite prepared to make her way alone. In a remote country village, under an assumed name, she knew she would find the anonymity and solace she sought.

Instead, she found handsome, charming Dr. Alden Venables. How delightful it was to have a friend, someone who did not judge or condemn. But Marianne didn't realize that the good doctor harbored a surprising secret of his own. Would it jeopardize their future happiness together? Or could the wounds of the past be healed by a love truer and more wonderful than either could imagine?

The author, Mary Chase Comstock: "I wrote this book because I wondered about the lives of women who, in a society bound by convention, did not tread the straight and narrow. Young girls in Regencies are often warned there will be consequences for "hoydenish" behavior, but we rarely get a glimpse of them. This book reveals the darker side of Regency England.

This is the "divorce book" - a sad time for me, and it shows in the writing. I couldn't find it in me to write about young, virginal girls with their high hopes and romantic ideals, but when Mariann Gardiner walked into my mind, I felt hers was a story I could tell. She was sadder and perhaps wiser than my other heroines, and certainly less hopeful. Once I got to know her, my goal was to find a miracle for her. "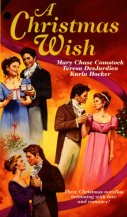 A Christmas Wish
ISBN 0-8217-4762-2
"A Christmas Conspiracy" by Mary Chase Comstock
When Lady Frances receives a letter from her estranged husand Giles, begging her to return to Montmorency Hall for Christmas, she is delighted. Never mind that the missive was really penned by their mischievous twin daughters; Frances can hardly wait to be reunited with her family, and with the man she has never stopped loving....
"Wish Upon An Angel" by Teresa Desjardien
On the eve of Christmas - in the midst of a perilous winter storm - young Amanda is visited at her parents' country estate by a friendly angel. Now, with her father missing and her brother betrothed to the wrong woman, Amanda must put her faith in a little Christmas magic... and a lot of love.
"A Wish For Christmas" by Karla Hocker
Lady Sophia Northup's holiday wish is granted when her husband, Lucian, returns from the Continent in time to celebrate their first Christmas together. But a war injury has left Lucian with no memory of Sophia - or their marriage. It will take more than mere wishes for two tender strangers to rediscover the love that first joined their herarts.

A CHRISTMAS WISH: You will probably note if you read my books in order that the heroines become older and more serious. I wrote this book as I was contemplating divorce and trying to decide what to do to heal my marriage.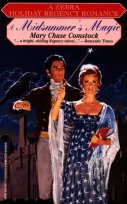 A Midsummer's Magic
(A Zebra Holiday Regency Romance)
January 1994 ISBN 0-82174-6324
In this utterly charming Regency, a witch, a wizard, a little magic and a mysterious love potion all bring about a comedy of errors on Midsummer's Eve. The beautiful Hippolyta's magical powers label her a witch. Puzzled by her irresistable attraction to Julian St. Ives. Hippolyta thinks that she is bewitched.

Mary notes: "I've always liked mysteries, mischievous fairies and tangled plots, so translating Shakespeare's Midsummer Night's Dream to the regency seemed a natural. I wanted to call my heroine something more appealing and pronounceable than "Hippolyta," but she kept insisting (as strong characters will). We compromised on "Polly" for a nickname. This is a book that kept taking its own path, despite my intentions. I even had to call my editor several times to put a stop on the cover copy until the gentlemen decided which of them would be the hero!"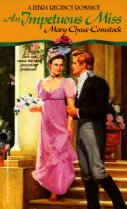 An Impetuous Miss
Zebra / Kensington January 1993 ISBN 0-82174-0423
A Provoking Problem - When the contents of her grandmother's will were revealed, Catherine Mansard was horrified! It seemed she must spend each season in London until she found herself a suitable husband or else she would lose her beloved Sparrowell Hall. Cat had always prided herself on her unconventional ways, but it was clear she would have to curb her eccentricities amongst the polite members of the ton. An apparently that set included Mr. Charles Hazleworth, whose high-handed manner at her cousin's wedding had provoked Cat to an unprecedented degree. She had to admit he was a most handsome gentleman and it was inevitable that they should meet again in London. Cat could only wonder if their next encounter would be as memorable as their last....
A Satisfactory Solution - Charles Hazleworth looked back upon his first meeting with Miss Catherine Mansard with some amusement. This most spirited young woman had a propensity for saying whatever was on her mind, no matter whose sensibilities she might offend - including his own. Yet, despite the allure of her green-eyed beauty and the charm of her clever wit, Charles was determined to keep his distance. As a confirmed bachelor, a simple friendship was enough for him. However, the more time he spent with the delightful Miss Mansard, the less certain he grew about his unmarried state. An suddenly he found the notion of a complicated romantic entanglement very appealing indeed!

Mary remarks on why she wrote IMPETUOUS MISS: "When I was in graduate school I discovered regencies, and began to wonder whether I really wanted a Ph.D.. I had far rather write fun books. The week I took my comprehensive exams (a five day ordeal), I also read four regencies. I started writing An Impetuous Miss the day after I defended my dissertation. Cat Mansard's terriers are modeled after my Scottie, Angus (since departed to that feed mill in the sky). My biggest plotting challenge was trying to find a way for Cat to rescue herself without making Mr. Hazelforth seem less than heroic."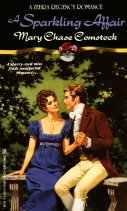 A Sparkling Affair
Zebra January 1993 ISBN 0-82174-1705
An Impetuous Heroine - They were really too wretched, sighed Lady Selinda. She had never dreamed that the aunts who had taken her and her younger sister in after their parents' death would turn out to be such gorgons! It was a most difficult task indeed acting the part of a docile young miss when Selinda dreamed of living the life of one of the heroines in the penny romance novels she secretly read. And so it was with a start of surprise that she met the very handsome Lord Waverly whose dark blue eyes and golden hair made him seem the perfect hero. Surely he could teach her about the mysteries of romance and love....
A Perfect Hero - known for his peculiar brand of wit and eccentric behavior, Lord Waverly found pleasure in continually confounding the ton. What was not nearly so delightful, however, was the bevy of society mamas bent on marrying off their daughters to an eligible bachelor of good fortune. Roland longed for a female with some spirit and was thus quite pleased to make the acquaintance of the charming Lady Harroweby. She seemed a shy sort upon first meeting, but Roland decided there was much more to this young lady than met the eye. With her sparkling smile and lovely face she had caught his interest - and now it seemed she had captured his heart!

Mary comments: "The summer after graduate school, I taught a summer course on Prince Edward Island. I stayed in an old cottage on the shore, which was haunted by my hostess's great aunt. While attempting to keep terror at bay, I kept the light on all night and began plotting this story using the idea of a ghost matchmaker."

Site designed by The Regency Lover's Cafe